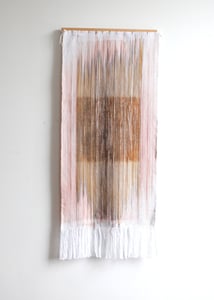 $

320.00
Hand woven wall hanging
cotton yarn dyed with Quebracho Rojo and Steel

This meticulous piece of art was made by staining the warp threads with a tannin-containing Quebracho dye and allowing it to interact with a plate of steel. As the rust reacts with the tannins in the dye, the color stains the shape into the fiber. The interaction between the iron and tannins in the dye cause the colors to shift to a range of cool grays and blues as the strings dry.
The weaving is then completed with natural cotton weft threads leaving the bold square in the center.
Weaving measures 16" width 37" length
Attaches to the wall with a single nail, using a minimal wooden rod and hanging mechanism
One of a kind